Brand development and strategic marketing are an important investment in the health and growth of one's business, and over time can yield some exciting results. I'd like to share some of Pam Knights Communications 2018 highlights with you.
EVENT PROMOTION

On May 30, The Landmark Trust USA in Dummerston, VT offered its 1st Annual Estate Tour with a Rhododendron Display at Rudyard Kipling's former Vermont home, Naulakha, now a year-round vacation rental property.
The Wayside Restaurant, Bakery & Creamery in Montpelier, VT celebrated their 100th Anniversary on July 29 with a customer appreciation event featuring an ice cream social and fireworks. Several VT dignitaries were in attendance.
On October 9, Scott Farm Orchard in Dummerston, VT hosted their 16th Annual Heirloom Apple Day featuring talks and tastings with Orchardist Zeke Goodband, apple picking, live music, dry stone wall tours by The Stone Trust, and local food vendors.
That same weekend, Cedar Circle Farm & Education Center in East Thetford, VT hosted their 16th Annual Pumpkin Festival with horse-drawn wagon rides, pumpkin picking, live music and performances, kids activities and organic food concessions.
AUTHOR & BOOK PROMOTION

In September, New York Times Bestselling Author Archer Mayor of Southern VT released Bury the Lead, the 29th novel in his acclaimed Joe Gunther crime series. PKC helped to promote his many author appearances throughout VT, NH, MA and NY. Preparations are in the works for promotion of his benchmark 30th novel, Bomber's Moon, due out this fall.
In November, acclaimed New Yorker magazine cartoonist and Vermont's second Cartoonist Laureate, Edward Koren of Brookfield, VT, released a new book, Koren. In the Wild, published by Button Street Press. This collection of cartoons, featuring his signature hairy, humanoid and bold creatures coupled with his keen wit, beautifully captures the duality of rural and urban life while gently poking fun at it.
PUBLIC RELATIONS HIGHLIGHTS
2018 was a great year for PR! Having truly unique and newsworthy angles to work with makes my job lots easier, as does developing good relationships with the media. I was fortunate to have the opportunity to promote some very exciting milestones this past year. Here are some highlights.
Stuck in Vermont:
Montpelier's Wayside Restaurant Turns 100
Seven Days' Eva Sollberger attended the Wayside's Customer Appreciation Event held on July 29, 2018 to produce this Stuck in Vermont video, episode 543. The 100th was widely publicized on Vermont Public Radio, WCAX, ABC 22, WPTZ, New England Cable News, CNBC, Associated Press, US News & World Report, Newsday, The Best of Central Vermont magazine, Vermont Magazine, Burlington Press Press, and The Bridge, among others too numerous to mention. To say the least we we're thrilled with the coverage!
New England Cable News:
Memorial to Victims of the Spanish Flu Taking Place in Vermont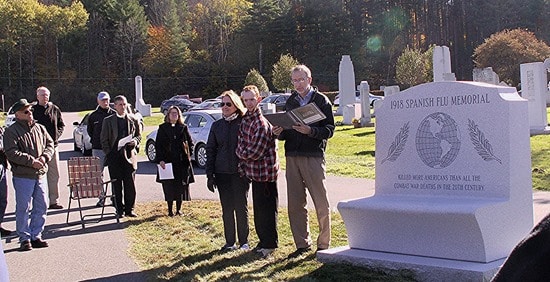 October 2018 marked the 100th anniversary of the 1918 Spanish Flu, the deadliest epidemic in history that killed 50-100 million worldwide. To honor Brian Zecchinelli's grandfather who was a Barre, VT victim, the Zecchinelli family commissioned a 4-ton Barre Granite "Reflection Bench" that was dedicated on Oct 26 at Hope Cemetery in Barre. The story received extensive coverage by New England Cable News, NBC, Associated Press, US News,The Valley News, The Times Argus, and Best of Central Vermont magazine, among others.
Associated Press:
New Yorker Cartoonist's Book Pokes Fun at City-Rural Divide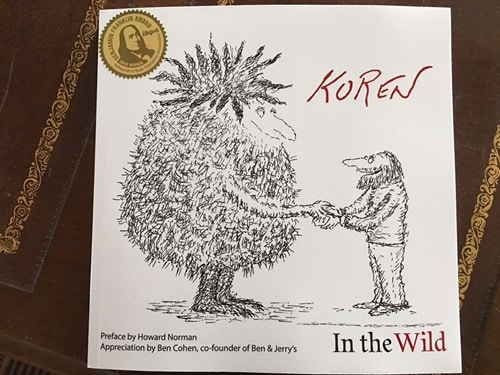 In November and December, Ed Koren enjoyed widespread national publicity for his new book, Koren. In the Wild, spurred by Lisa Rathke's Associated Press article and Jane Lindholm's VPR Vermont Edition interview. A feature article, Drawing Analogies by Maria Buteux Reade came out in the March/April issue of Vermont Magazine, and other stories in Columbia Magazine, Prattfolio, and other NPR stations are in the works.
UpCountry Magazine:
On Scott Farm in Dummerston VT More than 100 Almost-Lost Varieties are Grown with Loving Care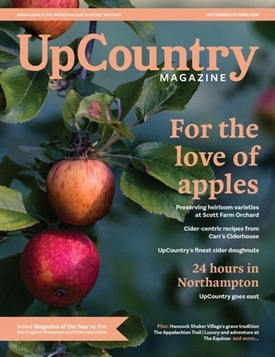 Scott Farm was featured In the September/October issue of UpCountry Magazine, on the cover and in an article written by Natalie Wise. The story focuses on Orchardist Zeke Goodband and the cultivation of more than 125 varieties of heirloom apples grown on the 571-acre farm in Dummerston, VT. Scott Farm, owned by The Landmark Trust USA, operates a farm market and a wedding and event venue, and offers a fruit CSA, and pruning-grafting, cider making, and baking workshops throughout the season. A feature story is in the works for the Sept/Oct 2019 issue of Vermont Magazine.
Pam is grateful for the opportunity to work with such wonderful and interesting clients and extends a special thank you to Kelly Carlin at Scott Farm Orchard, Karen and Brian Zecchinelli at the Wayside Restaurant, Bakery & Creamery, Margot Zalkind at Button Street Press, and Kate Duesterberg at Cedar Circle Farm & Education Center, among others.