The Inn at Weathersfield in Perkinsville, Vermont, noted as one of the top 10 culinary inns by Bon Appetit magazine, is pleased to announce the appointment of Jean-Luc Matécat as executive chef. Chef Jean-Luc's responsibilities include creating and overseeing the culinary experience for both inn and dinner guests, teaching classes at the inn's non-professional classroom studio, The Hidden Kitchen, and managing the inn's organic vegetable and herb garden. See Corin Hirsh's nicely written article Grilling the Chef: Jean-Luc Matecat that appeared in Seven Days, Feb 11, 2014.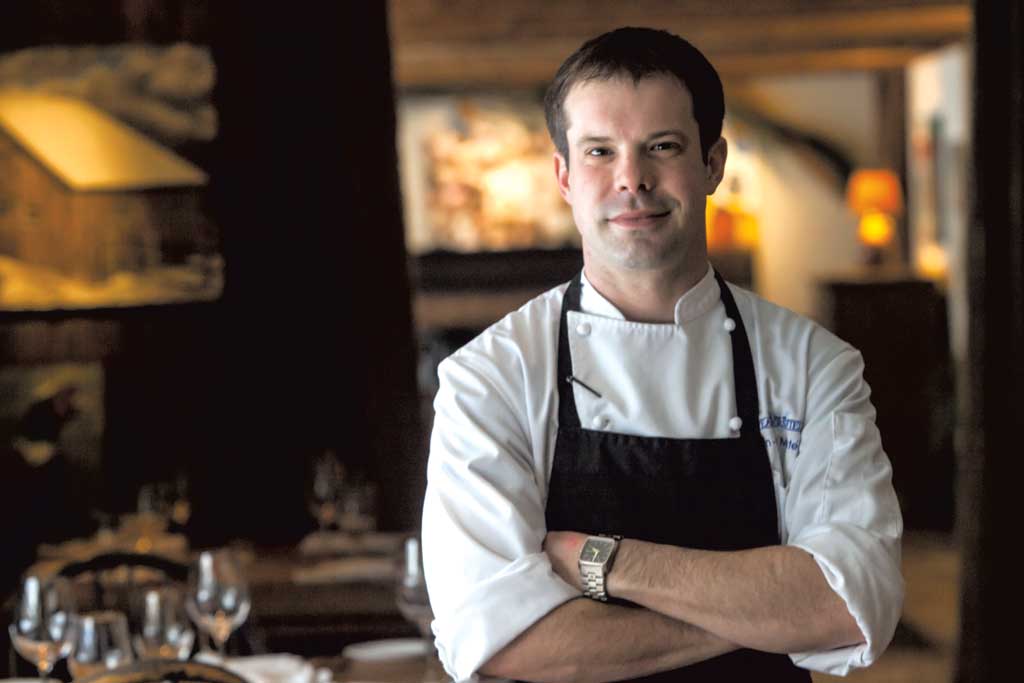 A Blend of Vermont & France
As a native Vermonter and son of a French chef, Jean-Luc learned early to respect food and seek out the freshest ingredients from local farms. After culinary school in California and studying under some of the finest chefs in New England, Jean-Luc's career took him from Nantucket to northern Vermont and over to France. His style is clean, rustic, yet classically rooted. His dishes change weekly and will continue to feature ingredients from local farms, as well as seafood from New England waters.
Meet the Chef Thursdays
To introduce the community to Jean-Luc and his cuisine, the Inn is running "Meet & Three" Thursdays, every Thursday through March 23, when the Inn closes for mud season. A special three-course dinner, featuring dishes from the chef's Friday through Sunday tasting menus, is being offered in the dining room.
"I'm truly excited to be a part of the next chapter unfolding here at the Inn at Weathersfield", said Executive Chef Jean-Luc Matécat. "It's a privilege to work in a place with such a rich culinary history. The Inn's deep connection to the local agriculture and farms is a natural fit for me, because it is such an important part of how I choose to live my life and run my kitchen."
One of 90 Applicants
"The 'Meet & Three' Thursday dinners will give inn and dinner guests the opportunity to meet and experience Jean-Luc's cuisine," said co-owner Marilee Spanjian. "Last fall, we reviewed over 90 applicants. Of those, we brought in five to cook for our search committee in The Hidden Kitchen, our classroom studio. It was a unanimous decision. Jean-Luc's respect for local farm fresh food is a way of life for him. His style is clean and creative, with dishes like Heirloom Carrot Soup with pork belly hidden in the bowl, Braised Lamb and Handmade Cavatelli, and his Smoked New England Bluefish Paté paired with pickled onions. His calm, focused style inside and out of the kitchen and among the guests brings a level of professionalism that Richard and I appreciate."
A Premier Culinary Inn Destination
The Inn at Weathersfield is one of Southern Vermont's hidden farm-to-table jewels and a premier New England culinary inn destination. Tucked on 21 wooded acres, the 12-guest room year-round inn is open for dining, weddings and events. It is conveniently located just minutes from Woodstock, Ludlow (Okemo Mountain) and Chester, yet far enough away to be a true retreat. Built in 1792 and having served as a stagecoach stop, the charming two-story aged gently as a private residence for over 150 years before becoming an inn. Old world charm found in the original wood floors, fireplaces, and exposed timber frame beams blends with modern spa baths and showers, flat screen TVs and WiFi throughout.
The restaurant is open Wednesday through Sunday from 5:30-8:30 pm and the inn is open seven days a week. For more information call 802-263-9217, email stay@weathersfieldinn.com and visit www.weathersfieldinn.com.
A Proud Mom!
I can't take any credit for teaching my handsome son, Jean-Luc, how to cook but I certainly am proud of him! He's a very accomplished chef and his flavor profiles are a delight. We're looking forward to dining at the Inn at Weathersfield again very soon!