It
has been a pleasure for Pam Knights Communications to work with John Harkins and Jack Palmer at Galusha Hill Farm Lodge in East Topsham, Vermont, to develop their branding and recently completed website at GalushaHillFarmLodge.com. The public is invited to come to the farm on Saturday, February 28 between 10:30 AM – 3 PM to tour this amazing property. Here are the details:
Situated high on a hill overlooking 600 majestic acres in Central Vermont, Galusha Hill Farm Lodge, the largest of three unique lodging facilities on this beautiful farm estate, is now open for business. Completed in November 2014, this 12,000 square foot post and beam structure is available for corporate and group retreats, special events, weddings, and family vacation rentals. On Saturday, February 28, 2015 from 10:30 AM -3 PM, the public is invited to visit the property, tour the Lodge, Farm House and Cottage, meet the staff, enjoy refreshments, and explore the many miles of recreational trails. Visitors of all ages are welcome to bring sleds, cross-country skis, and snowshoes (but are asked to leave pets at home).
Visitors can gather by the central stone fireplace in the Lodge's Grand Room, overlooking the deck with breathtaking views of the farm and mountains, for guided tours starting at 11 AM, Noon, 1 and 2 PM. Estate Manager Jack Palmer will escort people throughout the four floors of The Lodge to see a sampling of the nine luxurious guestrooms, dining and conference rooms, built-in theater, country pub, work-out, steam and sauna rooms. He'll then take people on a short walk to The Farm House, to see the fully renovated six-bedroom 1820s classic Vermont Cape, where the owners, the Harkins, have vacationed as a family for years. From there visitors can continue on down a short country road to see the Cottage, an off-the-grid, solar powered post and beam get-away, that sleeps up to four, with its own private spring-fed pond.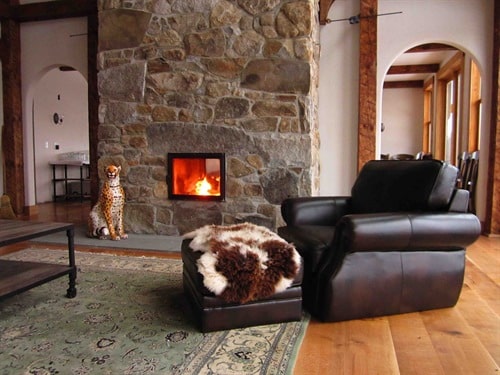 "It is with great pride that we announce the opening of the Galusha Hill Farm Lodge and Retreat Center. Over the past two years we have developed some very exciting infrastructure at Galusha Hill Farm. As our fields and forests become increasingly familiar and our products more refined, we have dreamed of inviting groups to engage in productive work on the hill. The natural environment and solitude of Galusha Hill Farm provide tremendous inspiration and transformational experiences for both groups and individuals. We are thrilled to open our doors to the public on February 28th for an open house and farm tour. We hope to see many of the familiar faces we have met through the years and excited to meet many new people as well," says owner and farm manager John Harkins.
John Harkins will be on hand to talk about and show people the farm where he produces maple syrup and raises certified organic fruits and vegetables, heritage breed livestock, and open pollinated heirloom seeds. In an effort to educate people about growing, harvesting and cooking locally produced foods, Galusha Hill Farm will be offering a series of on-farm workshops. The first, a Whole Hog Butchery & Sausage Making Workshop with "The Gourmet Butcher" Cole Ward, takes place May 1-3, 2015.
For more information and directions to the farm, please visit our newly completed website at www.GalushaHillFarmLodge.com. You can also reach us by calling 802-584-3061 or emailing retreats@ghflodge.com.
*****
A distinctive Vermont destination for corporate and group retreats, special events, family reunions, and sporting vacations, Galusha Hill Farm & Lodge is situated on 600 acres in central Vermont, in close proximity to Barre and Montpelier VT and nearby Hanover NH. The facilities, available for rentals, include a newly built 12000 sq. ft. lodge and conference center, a fully renovated 1820s farmhouse, and a private cottage overlooking a pond. The certified organic farm produces heritage breed sheep and pigs, maple syrup, apples, garlic, and heirloom vegetable seeds. The estate, ideal for outdoor recreation, offers a private lake, miles of trails for hiking, mountain biking, cross-country skiing and snowshoeing, and a tennis court.