In addition to working with hospitality, lodging, food, and tourism businesses, Pam enjoys working with small businesses, those with "worthy" purposes that help to make the world a better place in some way. PKC has worked with authors, artists, house painters, woodworkers, family and horse dentists, a goat milk soap maker, an antique dealer, carriage driving trainers, a concert pianist, an electrical contractor, a retail consultant in Arizona, and a kennel that raises rare Japanese hunting dogs in Florida, to name a few.
They all have interesting stories and unique specialties. Potential customers appreciate learning about the principles and people behind a business and discovering what makes it special. This messaging is communicated via their websites, in print materials, through email campaigns, blog posts, and social media. Pam Knights helps to bring those unique attributes into focus through creative messaging, content creation, and compelling visuals. PKC's team of talented professionals work to produce distinctive print and digital marketing materials and customized Word Press websites.
Small Businesses Make the World a Better Place
Last Time Around Antiques, Collectibles & Refinished Furniture
After outgrowing their downtown Barre store, Terry Culver and his wife Sue Hudson recently moved their flourishing antique business to a larger space in East Barre. It's exciting to see how much their business has grown since first working with them in 2012 when they opened their shop. We're now working on their second and all-new website. Photo by First Light Studios.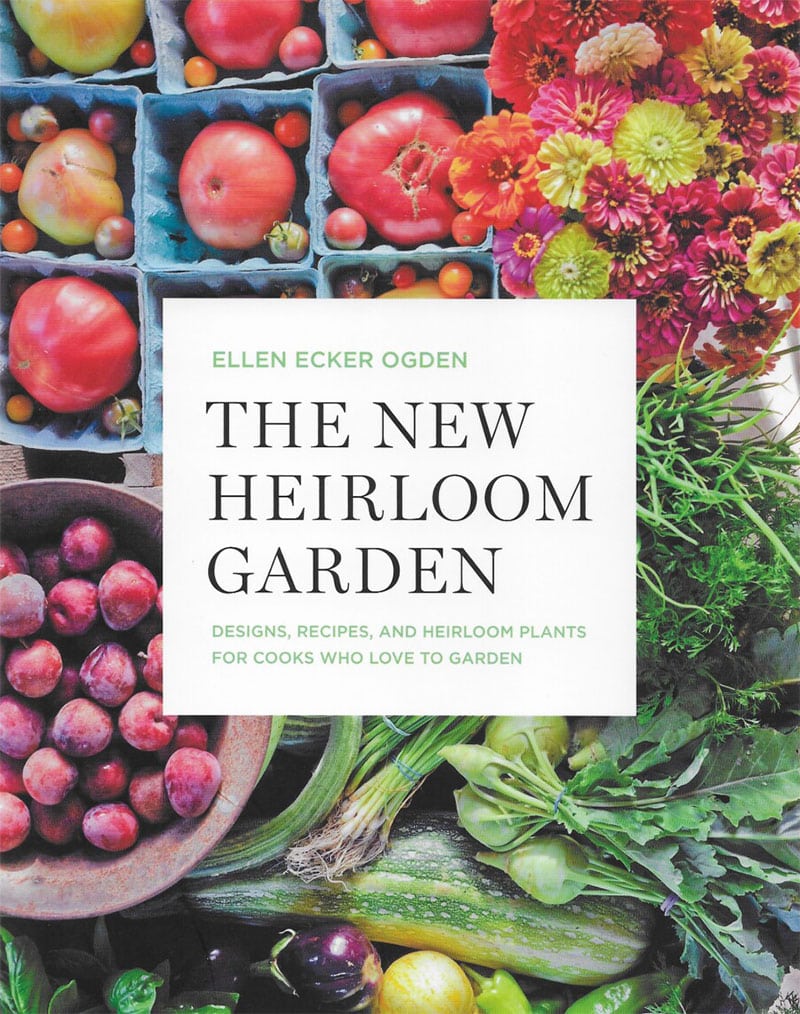 A leading authority on kitchen gardens, Ellen Ecker Ogden is an author, cooking teacher, lecturer, and kitchen garden designer based in Manchester VT. PKC has helped Ellen over the years with her marketing and recently helped her revise her website at ellenogden.com. Photo courtesy of Ellen Ecker Ogden.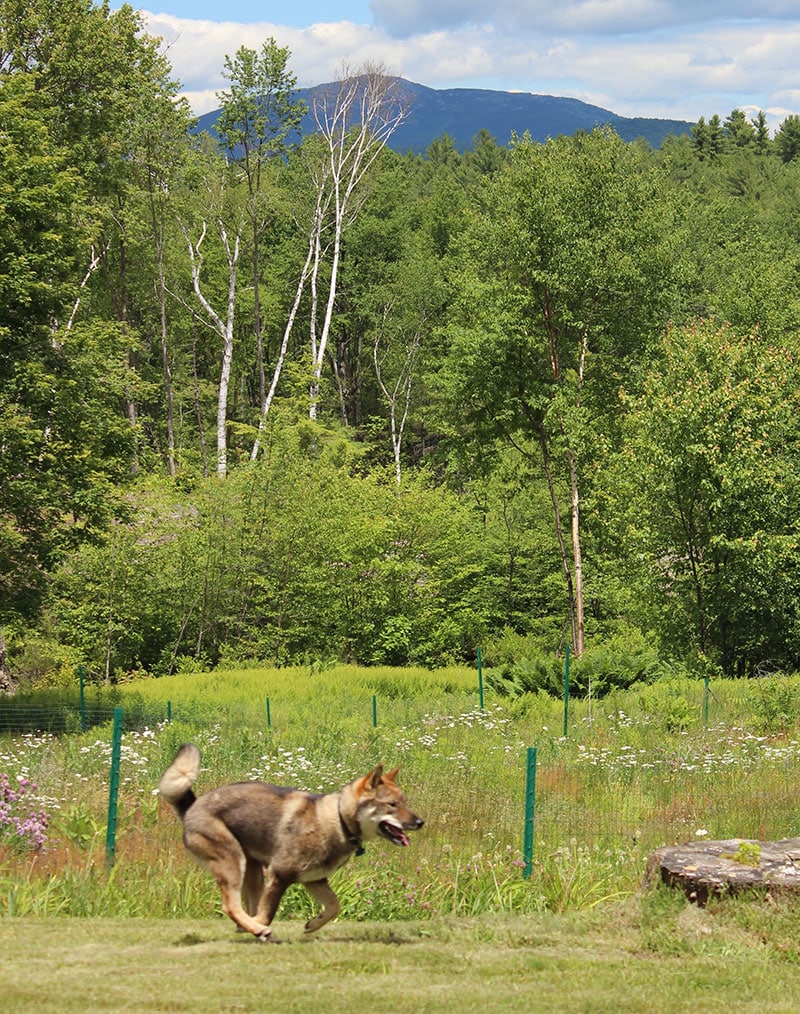 Owners Erik and Anne Entwistle are dedicated to preserving the Shikoku Ken by raising puppies at their NIPPO registered kennel in Sanibel, Florida and at their farm in NH. A rare and beautiful breed, these primitive hunting dogs were originally bred to hunt deer and boar in remote areas of the Japanese island of Shikoku. Erik is also a concert pianist. PKC has created logos, print materials and websites for both of their businesses. Photo courtesy of Akitsu Shikoku Sou.
Green Mountain Hooked Rugs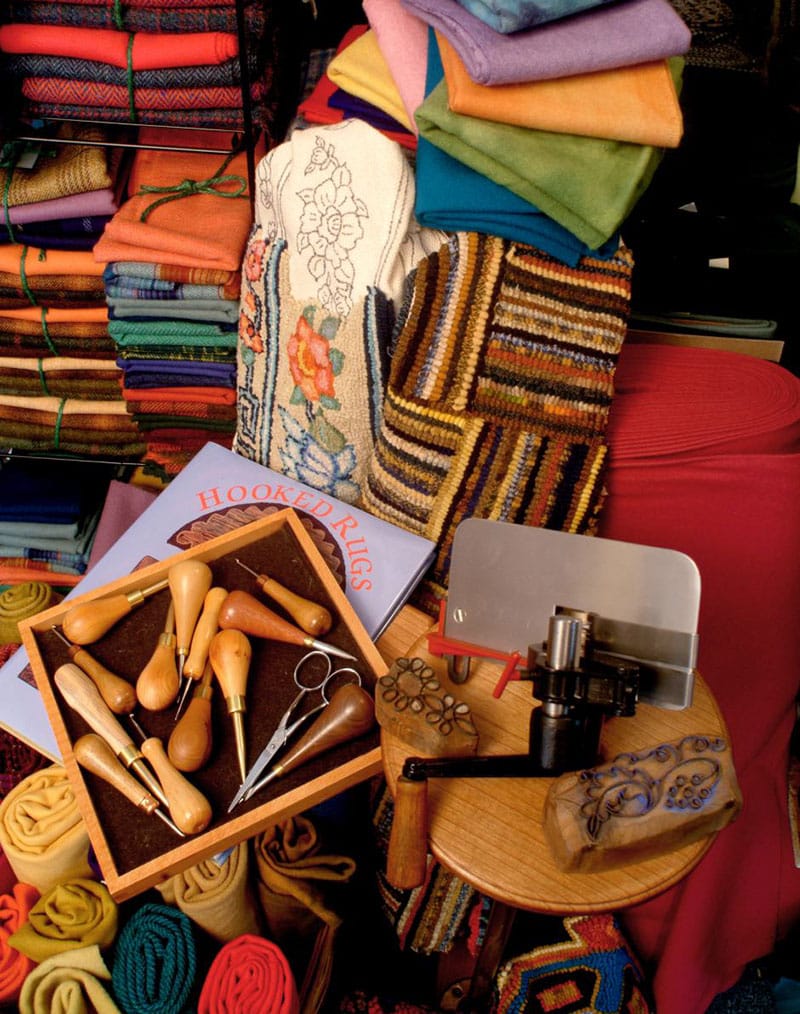 Stephanie Ashworth Krauss, an expert rug hooker, teacher, and wool dying specialist, owns Green Mountain Hooked Rugs in East Montpelier, VT. As a result of many years of handling their marketing and creating their annual catalog for Green Mountain Rug School, Pam has a become an avid rug hooker and loves the fabric arts! Photo by First Light Studios.
Cider Hill Gardens & Gallery
Painting from a deep respect for the natural world around him, Gary Milek uses egg tempera and gold leaf techniques to recreate New England landscapes. While his artwork is collected throughout the world, Gary creates from his Windsor VT studio. Pam worked with both Gary and his wife Sarah for many years to promote Cider Hill Gardens & Gallery where they sold uncommon perennials and Gary's paintings and prints. Photo courtesy of Gary Milek.
Traveling Equine Dental Service
Duncan MacPhail offers sedation free whole mouth dental care using modern hand tools to maximize a horse's health and performance. He travels to Vermont, NH, Maine, Massachusetts, Connecticut, and Rhode Island to provide equine dental services. Pam has entrusted Duncan with her horses' teeth for many years now. PKC created the MacPhail Equine Dentistry logo, their print materials and website. Photo by Denlore Photography.
Contrary's Whey Goat Milk Soap
A practicing pharmacist and soap maker from Milton, VT, Ellie Mesler handcrafts goat milk soap in small batches using her own recipe, 100% pure ingredients, and organic milk from her small herd of Nigerian goats. PKC created her logo, point of sale materials, and first website. Ellie now sells her soap exclusively through purveyors of handcrafted merchandise. Photo courtesy of Ellie Mesler.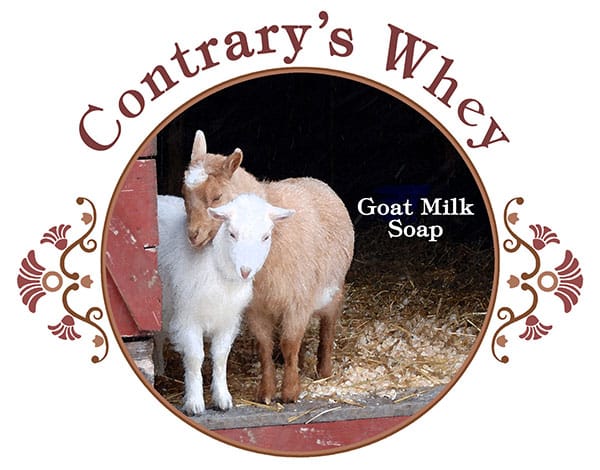 My initial contact with Pam Knights centered around my desire to have a functional website. I was unaware at that time that Pam's talents extend to all aspects of launching a successful business. After a visit to Contrary's Whey, she chose the best features of the farm, the product and myself to create a logo, website, messaging platform and promotional material with incredible attention to detail. The colors and design of the logo, the business cards and postcards are all beautiful. Pam arranged my thoughts into truly poetic script that conveys all aspects of what my product offers. She made my goat milk soap stand out, and her marketing skills really helped promote my product. She addressed all my needs while remaining attentive to my financial constraints. Pam is honest, knows her business, and will work with you until you achieve your goals. Her communication skills are superb, and every time I package a bar of soap I have Pam to thank for getting my product to the public."
– Ellie Mesler, Contrary's Whey Goat Milk Soap, Milton, VT
Building a respected brand takes careful planning and a commitment to marketing over the long term. It entails a well-crafted brand strategy, based on a realistic marketing budget. Pam works with clients to help them define and fine tune their brand identities, and to develop the marketing plans and tools they need to successfully grow their businesses. Find out more, contact Pam today!